Related reading:
Raging battles between government forces and military units opposed to Yemen's president killed 12 people in the capital as a crisis over a violent state crackdown on popular unrest drifted toward civil war.
Despite an order from the vice president for a cease-fire, the afternoon calm was broken by explosions and machine gun fire.
Witnesses said two mortars hit at the end of a street where thousands of protesters have camped out for eight months to demand an end to President Ali Abdullah Saleh's 33-year rule.
"The whole place shook with the explosion and clouds of dust shot up in the air when the second mortar hit," protester Badr Ali said.
The death toll has risen to around 70 people since Sunday, when frustration boiled over at Saleh's refusal to accept a mediated power transfer plan even after he suffered serious wounds in a June assassination attempt.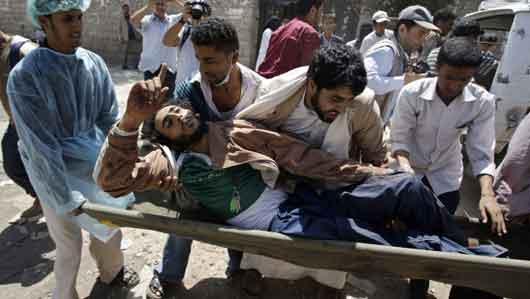 Yemeni anti-government protestors carry an injured protestor from the site of clashes with security forces, in Sanaa, Yemen, Tuesday, Sept. 20, 2011.
That has turned the violence prevalent in the street revolt against Saleh from shooting at protesters increasingly into a military showdown between forces loyal to him and troops and tribes who have defected to the opposition.
World powers fear that spreading chaos in Yemen could imperil international oil shipping and raise the risk of militant strikes on Western targets.
Related stories
Editor:James |Source: CNTV