Muammar Qaddafi, the ruler of Libya for more than 40 years, was killed yesterday after hiding in a filthy drainage in his hometown city of Sirte. However, the disturbing images of a blood-stained and shaken leader draged around by angry fighters prior his death led the world to wonder who pulled the trigger.
The Mideast television Al Jazeera showed footage of Qaddafi, bloodied but alive, as he was dragged around by armed men on the streets in Sirte.
Later, the TV network broadcast a separate clip of his upper body, partly stripped, with eyes staring vacantly and an apparent gunshot wound to the head, as jubilant fighters fired automatic weapons in the air.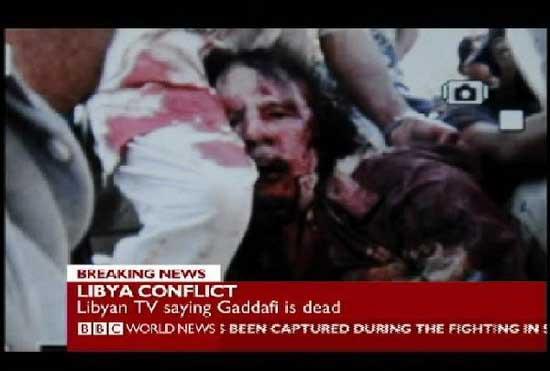 Still image from TV shows Libya's fallen leader Muammar Gaddafi in Sirte, Libya, Oct. 20, 2011. Muammar Gaddafi died of his wounds on Thursday, a National Transitional Council (NTC) field commander told Xinhua. The allegation on Gaddafi's death has not yet been officially confirmed by the NTC. (Xinhua)
A third video, posted on Youtube, showed excited fighters hovering around his bloody but motionless body, posing for photographs, and some fighters yanked his limp head up and down by the hair.
The exact circumstances of his demise are still unclear with conflicting accounts of his death emerging. But the footage, possibly of the last chaotic moments of Gaddafi's life, offered some clues into what happened.
Gaddafi was still alive when he was captured. In the video, filmed by a bystander in the crowd and later aired on television, Gaddafi is shown being dragged off a vehicle's bonnet and pulled to the ground by his hair.
"Keep him alive, keep him alive!" someone shouts. Gunshots then ring out. The camera veers off.
Qaddafi's body was ultimately seized by a brigade of Misurata-based fighters who had been fighting in Surt. A reporter accompanying Ali Tarhouni, a deputy chairman of the Transitional National Council who went to view the body, saw Qaddafi splayed out on a mattress in a reception room, shirtless, with bullet wounds in the chest and temple and with blood on the arms and hair.
"We have been waiting for this moment for a long time. Muammar Qaddafi has been killed," Mahmoud Jibril, prime minister of the Transitional National Council, the interim government, told a news conference in Tripoli.
Libyan television also reported that one of Colonel Qaddafi's feared sons, Muatassim, was killed in Sirte on Thursday, and broadcast images of what it said was Muatassim's bloodstained corpse.
Officials of the Transitional National Council told reporters late Thursday that Qaddafi had been killed in a crossfire, when a gunfight erupted between his captors and his supporters — making the argument that he was not killed intentionally. Forensics experts outside Libya who viewed photographs of the body said the wounds appeared to have been caused by handgun fire at close range.
In Washington, US President Barack Obama said in a televised address that the death of Qaddafi signaled the start of a new chapter for Libya. "We can definitely say that the Qaddafi regime has come to an end," he said. "The dark shadow of tyranny has been lifted and with this enormous promise the Libyan people now have a great responsibility to build an inclusive and tolerant and democratic Libya that stands as the ultimate rebuke to Qaddafi's dictatorship."
In a statement from NATO's Libya operations headquarters in Naples, Italy, Roland Lavoie, a NATO spokesman, confirmed that the alliance's aircraft struck two armed Libyan military vehicles near Sirte, but the he said that NATO officers did not know who was in them. "It is not NATO policy to target specific individuals," he said.

Editor:James |Source: CNTV