Watch Video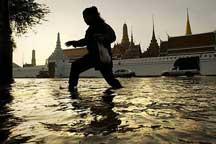 Play Video
A Thai cabinet meeting on Tuesday resolved there would be no extension for special holidays approved last week to allow the government to deal with flood situation more effectively.
In Thailand, downtown Bangkok has withstood the impact of peak flooding. Prime Minister Yingluck Shinawatra is calling on the city to speed up the process of draining water out of the city. She's also pushing for the flooded industrial area to resume operations within three months.
Since July, 381 people have been killed and over two million affected by floods caused by continuous rainfall.
Water levels will start to drop from here on out, but the danger is far from over.
A residential and commercial area of Bang Phlad has taken the most damage from the floods in recent days. Some parts of the district have even experienced waist-high waters.
Local residents are setting up sandbags barriers to stop the roaring waters from spreading to the town center.
Sangran Madchipat, Bangkok resident, said, "If we don't block the water can you imagine how much water could flow into the commercial area? Their businesses will be affected."
Not only hitting residential areas, the floodwaters even reached a local military base. On Monday, Thailand's's military started moving tanks out of Bangkok to unaffected areas.
Sixteen military armoured personal carriers were moved on to big trucks and secured by soldiers, while all the tanks were moved to another military base in Petchburi province, some 340 kilometres north of Bangkok.
The Thai government is trying its best to withstand the ordeal. Prime Minister Yingluck Shinawatra says the government is preparing for the reconstruction work ahead, with 80 billion bhat to be allocated to the first phase of the plans.
At the same time, the country is working to reduce the price of daily necessity, such as oil, electricity and water, as well as coordinating with commercial banks to provide loans.
Related stories
Editor:Liu Fang |Source: CNTV.CN