Watch Video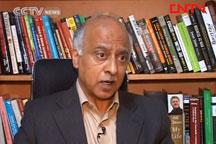 Play Video
The NATO attack that killed 24 soldiers in Pakistan over the weekend, continues to impact diplomatic relations. Among the raft of measures taken in retaliation by the Pakistani government, has been the order to the US to vacate a military base used to launch drone attacks.
But how significant is this move and what further implications could it have? Our correspondent Farzana Fiaz has this report from Islamabad.
The killing of a group of Pakistani servicemen by friendly forces has sent already tense diplomatic relations into a tail spin.
Pakistan immediately announced a number of steps in retaliation including the suspension of NATO supply routes to Afghanistan and a possible abstention from forthcoming Afghan talks in Bonn.
Further, the Americans have been given fifteen days to vacate a military base in the south western province of Balochistan.
Analysts in Islamabad say that the base is strategically important to the War on Terror as a launch pad for drone strikes in Pakistan.
Imtiaz Gul, security analyst, said, "Shamsie base is closely located to the Indian Ocean, Arabian sea, its a good transit point for the American airborne troops and this was also being used as we know for the drone strikes because it was also much close to eastern Afghanistan as well as to the Pakistani border areas in FATA."
But the order to expel the Americans from it has unwittingly exposed details of the nature of US-Pakistani strategic tactics.
Imtiaz Gul said, "It provided a cost effective, quick jumping point for the American forces although they had created a smokescreen by telling us that all the drone strikes were being conducted through one of the bases in Paktia province and that basically the CIA runs its entire campaign through it's head quarters in Langley but now I think we know that Shamsie base was also part of the operations and that's why the Pakistanis have reacted in this fierce way."
But is the order to expel the Americans from it as fierce as the Pakistanis would have everyone believe?
Sources close to the US say that the airbase poses no great inconvenience to their forces at all and that the order is merely a symbolic gesture.
That would tie in with the widely held assertion that US-Pakistan ties are unbreakable despite the many aggravations caused by it.
Imtiaz Gul said, "Whatever threats I think are transitory. Pakistan has take temporary steps to make its position felt to the Americans and I would resume that very soon, very high level diplomatic contacts would get activated to restore and repair this relationship."
Pakistan has rarely taken such strident measures against the international coalition over it's activities.
But the events of last Saturday may prove to be the tipping point.
Whether these retaliatory steps will leave the partnership permanently damaged or whether Pakistan is grandstanding – only developments in the coming days and weeks will provide the answers.
Related stories
Editor:Liu Fang |Source: CNTV.CN