Watch Video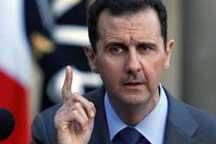 Play Video
As the crisis escalates, Syrian President Bashar al-Assad has denied ordering the crackdown on anti-government protesters.
In a rare interview with US media, Assad said he was not in charge of the forces behind the violence. He also insisted that most of the casualties from the unrest are government troops and supporters.
During the interview, President Assad maintained he did not give any commands "to kill or be brutal."
Bashar al-Assad said, "We don't kill our people, nobody kill, no government in the world kill its people, unless it is led by a crazy person. For me, as president, I became president because of the public support. It's impossible for anyone, in this state, to give order to kill."
Assad said the Syrian military belongs to the government, not to the president. He only conceded that some members of his armed forces went too far, but claimed they had been punished for their actions.
The United Nations has recently put the death toll in Syria, over the past nine months, at more than 4-thousand. But Assad said the dead included over 1-thousand soldiers and policemen.
He blamed the violence in the country on criminals, religious extremists and terrorists sympathetic to al-Qaeda, who mingle in the crowds of peaceful demonstrators.
Meanwhile, Assad scoffed at sanctions being imposed on Syria, saying the measures do not worry him.
The EU, US, Arab League and Turkey slapped new economic sanctions on Syria last week to further depress the country's economy and strain Assad's regime.
Related stories
Editor:Liu Fang |Source: CNTV.CN