Watch Video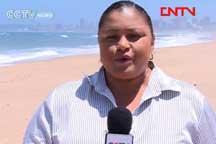 Play Video
Climate talks are hotting up in Durban, South Africa. Delegations from nearly 200 countries have until Friday to work out a deal for a future, global climate change regime. And time is running out. Our correspondent Rene Del Carme has more from Durban.
The United Nations maintains that the Cop 17 Talks are on track.
And South Africa's Chief Negotiator described discussions as excellent.
But many delegates are concerned.
Even some who are quietly confident about these negotiations, say they've already seen the effects of Climate Change in their countries.
His Holiness Soham Baba, who's lived in caves in the Himalayas for over 20 years, planted a Tree of Hope at the venue for the crucial talks.
Activists said they wanted to see a greater sense of urgency when it came to saving the Kyoto Protocol and the Green Climate Fund to help developing nations cope with the ravages of Climate Change.
Operationalising the Green Climate Fund is expected to be top of the agenda until the conference ends.
As the more than 100 ministers and 12 Heads of State and Government continue their discussions, there's a growing air of expection…of the climate talks outcome that will be delivered here in the city of Durban.
CCTV's Rene Del Carme said, "South Africa's third largest city. And the biggest city on the African East Coast."
Editor:Liu Fang |Source: CNTV.CN