Watch Video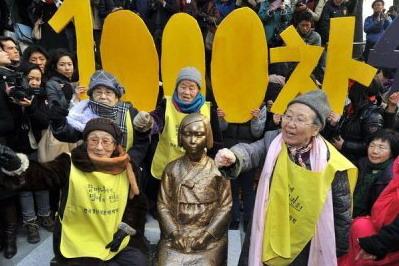 Play Video
A demonstration on December 14th in the South Korean capital, marks the one thousandth protest by former sex slaves to the Japanese army during World War Two. The elderly women have held the "Wednesday Protests" every week since January 1992, demanding an official apology from the Japanese government and compensation.
In front of the Japanese embassy in Seoul, former comfort women braved the cold weather to join this peaceful rally. A crowd of three thousand, including ordinary citizens, students, celebrities, and nuns came out to show their support. During the protest, a "peaceful monument" was erected facing the Japanese embassy. It is a 1.2 meter tall statue of a young girl, made to reflect how young the former comfort women were when they were first forced into sexual slavery at Japanese brothels. People shouted towards the Japanese embassy in one voice: "Apologize and compensate."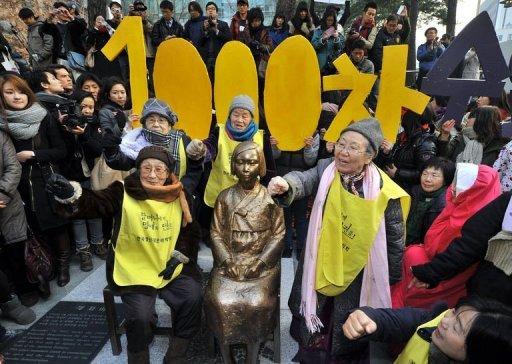 South Korean elderly women (yellow vests), who served as sex slaves for Japanese soldiers during World War II, protest in Seoul. Five women in their 80s or 90s and an estimated 500 supporters gathered around the statue of a South Korean teenage girl in traditional costume called the "peace monument" in front of the Japanese embassy.
Yun Mi-Hyang, Leader of Korean Council for Women Drafted for Military Sexual Slavery by Japan, said, "Today is a victorious day in history for the victims. People in different countries protested together, and the thousands of citizens who came here today are also evidence of the victory."
The elderly Korean women, now mostly in their 80s and 90s, have held this rally every week, through rain or snow, for the past 20 years. Their demands have been the same all along: an official apology from Japan and compensation for their sufferings as sex slaves to the Japanese army during the Second World War.
A total of 234 women had registered with the government as victims, but only 63 remain alive today.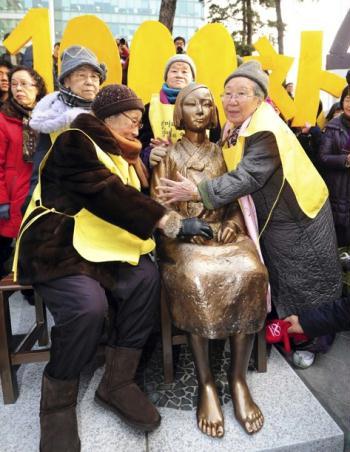 Former South Korean comfort women (wearing yellow vests)
pose with the Peace Statue symbolizing a wartime sex
slave at the 1,000th weekly anti-Japan rally in front
of the Japanese embassy in Seoul December 14, 2011.
Kim Dan-Bi, high school student, said, "I didn't think twice about coming. If you are human, a Korean person, and a female you should be here."
This Japanese man flew over from Nagasaki Prefecture with his colleague on Tuesday solely to attend the Wednesday Protest. He says his government must apologize.
Masato Shinozaki, Nagasaki Prefecture resident, said,"We come from Nagasaki Prefecture. We think Japanese government must apologize to her, the comfort women. And justice must be done. So we think so."
Japan says all potential claims by individual victims for sufferings during the Second World War were closed years ago through treaties. The Japanese embassy remained closed and silent as the protest continued for two hours.
CCTV correspondent U-Jean Jung said, Time is running out for these comfort women. Many hope that the compensation for these victims will be dealt with once and for all, when President Lee visits Japan next week.
Editor:Zhang Jingya |Source: CNTV.CN