Watch Video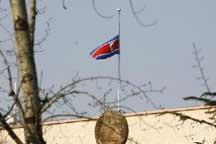 Play Video
Following the death of Kim Jong Il, world governments have been swift to respond. Japan, South Korea and the US have all increased security and are closely monitoring developments, yet they have called for stability on the peninsula.
Moscow has expressed hope that bilateral ties will remain strong, and Britain and Australia both stress how important this moment is for the future of this country. Dannielle Taaffe takes a closer look.
South Korea is the DPRK's closest neighbour. Upon hearing of the news, it has put its military on high alert. President Lee Myung-bak very soonly convened a national security council meeting. The Korean peninsula remains technically in a state of war more than 50 years after the Cold War-era armed conflict ended in a cease-fire.
In Washington, US President Barack Obama held a phone conversation with his South Korean counterpart following the announcement of the death of Kim Jong Il. Obama reaffirmed his country's strong commitment to the stability of the Korean Peninsula and the security of South Korea. The White House said the two leaders agreed to stay in close touch as the situation develops and agreed they would direct their national security teams to continue close coordination.
Japan is also closely monitoring the situation. Japanese Prime Minister, Yoshihiko Noda, held an emergency national security council meeting with top Cabinet members soon after hearing the news. He warned on Monday, it was necessary to ensure that Kim Jong Il's death does not affect stability on the peninsula.
Meanwhile, Moscow says it hopes for relations with Pyongyang to remain healthy. Russian Foreign Minister, Sergey Lavrov, said he hopes this loss for the DPRK will not negatively impact the development of their two countries' relations.
In Britain, the Foreign Secretary, William Hague, has said he understands that this is a "difficult time" for people in the DPRK but added this could be a turning point for the country.
Australia's Foreign Minister Kevin Rudd said something similar, saying that Kim's death puts the DPRK at one of those critical junctures and at an exceptionally difficult period of transition.
Editor:Liu Fang |Source: CNTV.CN