Watch Video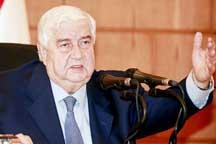 Play Video
Syria's foreign minister says Syria has signed an Arab League initiative to allow Arab observers into the country, part of a peace deal that aims to end the nation's 9-month-old crisis.
The agreement was signed between Syria's deputy foreign minister Faisal Mekdad, and the Arab League's under-secretary general Ahmed bin Helli, at the Arab League's Cairo headquarters after the 22-member bloc accepted amendments demanded by Syria.
At a news conference afterwards, the Secretary General of Arab League, Nabil Elaraby says the agreement will allow Arab observers into Syria "to move freely anywhere in Syria to ensure the implementation of the Arab initiative which the Syrian government has previously agreed."
Nabil Elaraby said, "A committee will travel to Syria in two or three days. The assistant secretary general, Samir Seif Alyazal, will head this committee and will be accompanied by legal, human rights, administrative and financial affairs experts, to research all issues concerning the missions that will travel to Syria. We have a list of names of people from non-governmental organisations as well as government representatives and each mission will be made up of around 10 or more people, who will travel to different locations."
Syria has stalled for weeks over signing the protocol on monitors, although it had agreed to other parts of the plan. Elaraby says the agreement will be revisited a month from now.
Many regime opponents have in the past accused President Bashar al-Assad of waffling on the deal as a way to gain time as the government continues the crackdown on protests. They have expressed scepticism that the regime will co-operate even after signing the initiative.
Al-Moallem says Syria will deal with the mission with "all seriousness, professionalism and objectivity," adding he will be co-ordinating "on daily basis" with the Arab League chief.
Walid al-Moallem, Syrian FM, said, "We would have not signed the protocol unless our amendments on it had been adopted, no matter what the circumstances have been. But after applying those amendments, and as we are seeking a political solution to this crisis, and as we want this solution as soon as possible, along with the partnership of the Arab League, I can say now that the signing of the protocol is the beginning of cooperation between us and the Arab League."
Syrian Foreign Minister Walid al-Moallem says the observers will have a one-month mandate that can be extended by another month if both sides agree. He pledges the observers will be "free" in their movements, but they will not be allowed to visit sensitive military sites.
Related stories
Editor:Liu Fang |Source: CNTV.CN