Watch Video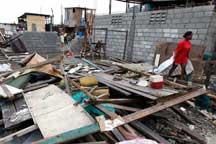 Play Video
Residents in the typhoon-hit southern Philippines are struggling to recover from the devastation after flash floods and landslides killed more than 900 people, destroyed crops and swept away houses.
The cities of Cagayan de Oro and nearby Iligan on Mindanao island were worst hit when typhoon Washi slammed ashore. The government says the death toll has now risen to 927.
About 143,000 people have been affected in 13 southern and central provinces, including 45,000 who fled to evacuation centers. About 7,000 homes were swept away, destroyed or damaged.
Conditions for around 100,000 people taking shelter inside crowded evacuation centers have worsened as the lack of sanitation from water shortages take a toll on the people's health. Shortages of food have also been reported despite relief efforts.
And ceremonies are being held to mourne the victims. Authorities in the flood-stricken city of Iligan on Monday organized the first mass burial of people who were swept to their deaths in one of the worst calamities to strike the region in decades.
So far, the international community has been rendering help. Both China and the United States are sending humanitarian support.
Editor:Liu Fang |Source: CNTV.CN