Watch Video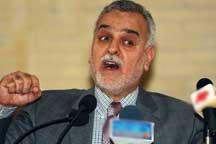 Play Video
Iraq's Sunni vice president Tariq al-Hashemi has denied charges he ran a hit squad that killed government officials during the nation's wave of sectarian bloodletting. He's accused the Shiite-led government of waging a campaign of persecution.
Tariq al-Hashemi said, "I demand that the elementary investigation be held here in Kurdistan region. And the investigation should be observed by parties. For my part, I will be ready to appear before court. I swear by God that al-Hashemi didn't do any sin or anything wrong against any Iraqi. Al-Maliki is behind the whole issue. The country is in the hands of al-Maliki. All the efforts that had been exerted to reach national reconciliation and to unite Iraq are now gone. So yes, I blame al-Maliki."
The government issued an arrest warrant for al-Hashemi on Monday, just a day after American forces completed their withdrawal. The vice president is the country's highest-ranking Sunni official.
The step risks tearing at the same sectarian fault lines that pushed Iraq to the edge of civil war just a few years ago.
Related stories
Editor:Liu Fang |Source: CNTV.CN