Watch Video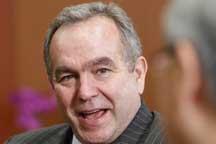 Play Video
US Assistant Secretary of State, Kurt Campbell has gone to Seoul to continue his Asian tour. During his visit to Beijing, he said China and the United States will keep "very close contact" concerning developments in the DPRK following the death of Kim Jong Il.
Campbell is the highest level US official to visit the region since the DPRK leader's death last month.
His comments followed four hours of talks with Vice Foreign Minister Cui Tiankai and other senior Chinese officials and scholars.
Kurt Campbell said, "I indicated that we would be closely monitoring the situation there and that we urged all parties to cautiously deal with the situation and to refrain from any provocations."
Following Kim's death, and with a leadership transition to his son Kim Jong Un under way, senior Chinese officials have urged Washington not to take any actions that might provoke or destabilise Pyongyang.
Campbell said, "On North Korea, I think the United States and China share a strong determination to maintain peace and stability. I think we both underscored how important it will be over the course of the coming months to maintain very close contact between Washington and Beijing."
The two sides also discussed whether the unexpected death will delay resumption of talks on the DPRK's nuclear program and delivery of US food aid. The meeting is also viewed as an important opportunity to continue to build a cooperative partnership between China and the United States on shared global challenges. Campbell also met with other senior officials and Chinese scholars before leaving Beijing for South Korea later in the day.
Editor:Liu Fang |Source: CNTV.CN