Watch Video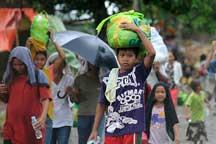 Play Video
Thousands are now known to be dead or missing in the Southern Philippines, after Tropical Storm Washi triggered flashfloods in two major cities last month. More than a 100,000 survivors are now having to start their lives all over again. Our correspondent Barnaby Lo has more.
Ephraim Capiling had spent Christmas and New Year putting up a temporary shelter for his family, where their original home once stood before flash floods triggered by Tropical Storm Washi washed away entire villages, killing more than a thousand people in Southern Philippines.
Ephraim Capiling, survivor, said, "It still hurts when I think about how much we've lost. We were poor, and now we're even poorer. But we have no choice, we have to move on."
It's what his neighbors and thousands of other survivors have also been trying to do, even if it meant having to pick up old, mud-stained clothes on dirt roads. Most of them could no longer wait for help from the government. Many other families, thousands of them in fact, have not left evacuation centers. Here, close to 2,000 people have been living in make-shift tents, with no proper facilities, not even walls to protect them from bad weather. But the government is set to move some of these families to a new site, where aid workers have been able to put up temporary shelters in what's being called a tent city.
CCTV's Barnaby Lo said, "The comfort of living in a tent like this may be nowhere near that of a real home, but for now, it certainly looks like there's no better option for the thousands of families that have been displaced by last month's flash floods. Each of these tents is actually worth $1,000. There's doors that open on both sides so it's actually pretty well-ventilated. And it comes with a complete set of survival kit – there's blankets, there's kitchen utensils, and there's even a water purifier."
Despite a screening process that the local government has yet to finish, this family has been camping out at the tent city, hoping to be able to move in soon.
May Robledo, survivor, said, "We've lost everything but what's important for me right now is that we have a decent, safe, and comfortable place to stay at, especially because I have a baby."
It's what most other homeless families here would have wanted, but for now, with just over 400 tents, only those that have been hardest hit will be given the privilege. The rest may have to wait a few more months perhaps until the government is able to build them homes or until they decide it's time to help themselves rebuild their lives.
Editor:Liu Fang |Source: CNTV.CN