Watch Video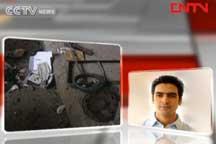 Play Video
For more information, we're joined on the line by our correspondent Adel El-Mahrouky, in Cairo.
Q1: Do you have any reaction from the Arab League headquarters on Assad's speech, especially the part referring to the Arab League?
Q2: The Arab League says 11 monitors were lightly wounded in Monday's attack by protesters. The League has condemned attacks on monitors in Syria, and is holding the Syrian government responsible for protecting mission.
Syrian President makes televised speech
Syrian President Bashar al-Assad has delivered a speech on State television on "internal issues and international and regional developments". He spoke at noon local time, his fourth speech since the start of anti-government protests last March. Full story>>
Editor:Liu Fang |Source: CNTV.CN