Watch Video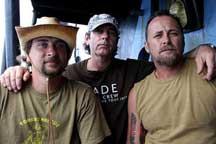 Play Video
The Japanese government has decided to release 3 activists without charges after they boarded a Japanese whaling support ship off southwest Australia.
The three anti-whaling Australian activists boarded the Shonan Maru No. 2 on Sunday as it tailed the Sea Shepherd Conservation Society's flagship, the Steve Irwin.
The Japanese government said they did not need to be prosecuted because no damage was done to the whaling ships and no one was injured.
An Australian customs ship was on its way to pick up the three activists on Tuesday.
Australian Prime Minister Julia Gillard said the ship would likely take several days travelling at full speed. Gillard thanked Japan for its cooperation and criticised the boarding tactic as "unacceptable." She said the best way to stop whaling was through court action.
Australia maintains that the annual whale hunts violate Japan's international obligations and is seeking a ruling by the International Court of Justice in the Hague.
The limited whale hunts, which Japan says are for scientific purposes, are allowed by the International Whaling Commission as part of an exception to the 1986 ban on whaling. But opponents say they are a cover for commercial ventures.
Related stories
Editor:Liu Fang |Source: CNTV.CN