Watch Video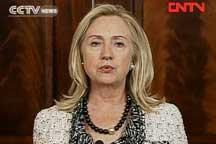 Play Video
The UN nuclear agency has confirmed that Iran has begun enriching uranium at its Fordo site near the holy city of Qom. The news has stirred international concern.
China on Wednesday called on all concerned parties to buckle down on diplomatic efforts towards comprehensive, long-term resolution to questions raised by Iran's expanding nuclear program.
Liu Weimin, spokesman of Chinese Foreign Ministry, said, "We have noticed the relevant reports and China recognizes that Iran's nuclear facilities are under the guarantee and supervision of the IAEA. China hopes that Iran will further strengthen its cooperation with the IAEA and clarify pending problems with its nuclear program as soon as possible. The priority in resolving Iran's nuclear issue is to step up the diplomatic efforts and the quick resumption of dialogue and negotiation between Iran and the concerned countries."
U.S. Secretary of State Hillary Clinton said on Tuesday that Iran's decision was "especially troubling" - urging Tehran to return to serious talks with Western powers over its nuclear program.
The United States imposed further sanctions on Iran last month and the European Union is expected to agree to ban imports of Iranian crude oil later this month. They are expected to decide on the possible embargo by Jan. 23. The EU has already agreed in principle on such a ban, but have yet to work out the timing.
Meanwhile, a Russian foreign ministry official said "Moscow has met reports on the starting of uranium enrichment at an Iranian plant near Qom with regret and concern."
It's widely said that Iran's nuclear program has military goals - a claim that Tehran denies.
Related stories
Editor:Liu Fang |Source: CNTV.CN