Watch Video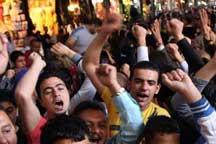 Play Video
Syria has stressed its commitment to the Arab League as news comes out that the bloc's monitors were attacked in the troubled country - denouncing any action that might hinder the observer mission in Syria. But one Arab League observer accuses the authorities of committing war crimes and turning the Arab monitoring mission into a farce.
Syrian Foreign Minister Walid al-Moallem said Tuesday that his country will continue shouldering its responsibility to protect AL observers.
The top Syrian diplomat also stressed Syria's commitment to implement the AL protocol signed on Dec. 19. He further urged the observers to remain even-handed in their mission. Al-Moallem also said some regional and international parties are questioning the observer mission in Syria in order to find a cover to take the Syrian crisis to the UN Security Council.
Earlier in the day, it was reported that two Kuwaiti military officers were slightly wounded in an attack by protesters on a team of AL observers in the coastal city of Latakia. Syria's ambassador to the UN stressed Syria's stance.
Bashar Ja'afari, Syria's Ambassador to UN, said, "There is no Syrian interest whatsoever in harming the credibility, safety and the security of the Arab envoys. This is why you have to look at those who perpetrated this attack against some of the Arab envoys as coming from the other side."
The monitors have been in the country since Dec. 26. And on Sunday, the AL decided to increase the number of monitors to about 200, from the current level of some 160. But the mission has thus-far failed to stop violent clashes between the government and the oppositions.
The United States, meanwhile, accused al-Assad of not meeting the commitments his country made to the AL.
Susan Rice, US Ambassador to UN, said, "That is a clear indication that the government of Syria, rather than using the opportunity of its commitment to the Arab League to end the violence and fulfil all its commitments under the protocol, is instead stepping up the violence, despite the presence of monitors and carrying out further acts of brutality against its population, even often in the presence of those monitors."
And Russia jumped into the fray on Tuesday - repeating Moscow's calls for an end to the violence in Syria and urging AL observers to monitor both sides of the conflict.
Editor:Liu Fang |Source: CNTV.CN