Watch Video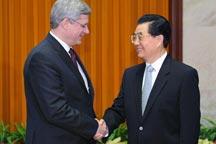 Play Video
President Hu Jintao and other Chinese leaders have met with visiting Canadian Prime Minister Stephen Harper. Harper came to Beijing on Tuesday for a five-day trip as the guest of Premier Wen Jiabao. After his Beijing tour, he will also visit Guangdong Province and the Chongqing municipality.
During Thursday's meeting with Harper at the Great Hall of the People, President Hu Jintao said he hopes the two countries will follow the Sino-Canadian Joint Declaration, engage in further political exchanges and understandings.
He called for more exchanges between the two peoples, especially young people, and strengthening the cooperation in regional and global affairs, so as to push forward economic recovery and sustainable growth.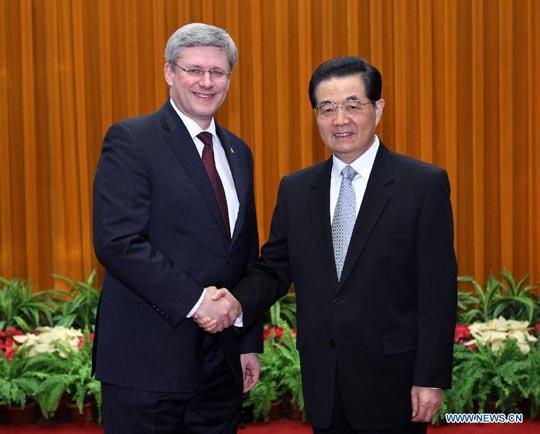 Chinese President Hu Jintao (R) meets with Canadian Prime Minister Stephen Harper in
Beijing, capital of China, Feb. 9, 2012. (Xinhua/Pang Xinglei)
Harper echoed the President's call. He agreed to further facilitate the bilateral strategic partnership and promote greater progress of cooperation in diversified areas, adding he is pleased to see China and Canada share more and more in many important issues.
When meeting with top legislator Wu Bangguo, the two leaders agreed that exchanges between the legislatures of the two countries have become increasingly frequent with a mature mechanism and have seen many significant achievements. The two sides promised to further strengthen inter-parliamentary exchanges in the future.
Harper later met with vice premier Li Keqiang and two attended a trade seminar for enhancing two-way trade.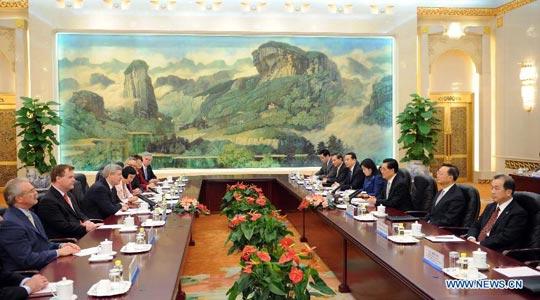 Chinese President Hu Jintao(3rd R) meets with Canadian PM Stephen Harper(3rd L) in
Beijing, capital of China, Feb. 9, 2012. (Xinhua/Li Tao)
In his comments, Li Keqiang called for a long term large scale energy cooperation as well as emerging sectors such as environmental protection and finance between the two sides.
For his part, Harper lauded stronger relations with China after Canadian businesses signed nearly three billion US dollars worth of deals with Chinese enterprises.
He added his country will work with China to provide more opportunities for companies of the two countries.
Editor:Liu Fang |Source: CNTV.CN