Watch Video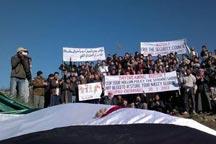 Play Video
Meanwhile, other countries have also expressed their views on the Syrian crisis. The US says it will not consider arming opposition groups, but will take efforts to move Syria into a political transition. Meanwhile, the EU has announced it will impose tighter sanctions on Syria. Iran, however, says it will support the Assad government against the threat of foreign intervention.
Not considering arming opposition groups in Syria. The US State Department spokeswoman Victoria Nuland made the remark, deflecting calls from some lawmakers to explore such a possibility as one way to solve the situation in Syria.
But US officials say no option will be completely ruled out for a way to end the crisis, and facilitate a political transition.
Iran on the other hand has denounced any foreign interference in Syria's crisis.
Iran's Deputy Foreign Minister Hossein Amir-Abdollahian delivered this message in a meeting in Damascus, on Wednesday. The Ministry also announced Tehran's support for reforms implemented by Damascus.
Hossein Amir Abdollahian, Iranian Deputy FM, said, "We will keep supporting the Syrian people and President Doctor Bashar al-Assad in the reform process, facing any foreign intervention, fighting terrorism and re-establishing security in Syria that is considered the heart of resistance."
UN Secretary General Ban Ki-Moon, says he regretted the divisions in the UN Security Council over Syria. Ban also revealed the intentions of the Arab League Secretary-General Nabil El-Araby, to send the observer mission back to Syria with UN help.
Ban Ki-Moon said, "He further suggested that we consider a joint observer mission in Syria, including a joint special envoy. I briefed the Security Council. Many members expressed their views about the proposals. In the coming days, we will further consult the Council before fleshing out details."
On Wednesday, Turkey's foreign minister flew to Syria. He warned President Bashar al-Assad that Ankara has "run out of patience."
Meanwhile, a senior EU official announced the bloc will soon impose harsher sanctions against Syria. He said the measures may include bans on the import of Syrian phosphates, on commercial flights between Syria and Europe, and on financial transactions with the country's central bank.
Editor:Liu Fang |Source: CNTV.CN