Watch Video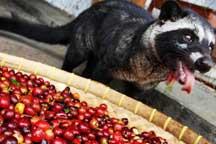 Play Video
Civet coffee, made from beans gathered from animal droppings, is a well known delicacy in Indonesia. And today the Philippines has started to produce its own version of the gourmet coffee. Du Yubin takes a closer look at the famous coffee industry in The Phillippines.
This Asian palm civet eagerly tucks into fresh coffee cherries.
More than 70 civets are kept at the Mount Apo civet coffee farm in the southern Philippines. They are provided with a balanced diet of fruit and meat 5 days a week, but twice weekly lunch is loaded with coffee cherries. They are being fed these to produce the exotic coffee beans derived from their droppings.
Once the droppings are collected, the choice beans - covered with parchment - are separated from those which have cracks. The selected beans are dried under in sun for several days, after which the dried husk is removed by machine. Roasting finally ensures that the beans are free of any remaining impurities from the civets' digestive process.
Sonny Dizon, a 57-year old businessman built this civet coffee farm two years ago. Dizon's farm produces around 60 kilograms of roasted civet coffee beans a week.
Sonny Dizon said, "The enzymes are supposed to penetrate the parchment, which influences the taste of the coffee. What happens is it lowers down the peptide, and increases the protein, and affects the taste. And the taste is, it diminishes the bitterness, and puts a chocolatey taste, chocolate taste on the coffee."
Those who are curious enough to try aren't disappointed.
Manuel Winkler, Australian tourist, said, "I walked here and I saw a guy roasting beans and I tried it and it tasted really good."
Jerson Laban, Filipino coffee drinker, said, "It's the aroma of the coffee, you will sense it, you will definitely feel the difference. If you're not a coffee drinker, you won't be able to feel that."
While Indonesia is known worldwide as the foremost producer and exporter of civet coffee, the Philippines' version is already getting the attention of coffee connoisseurs abroad. Although there are only a few producers in the country, some are already exporting their products in small volumes to other countries.
Editor:Liu Fang |Source: CNTV.CN