Watch Video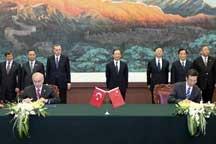 Play Video
Turkish Prime Minister Recep Tayyip Erdogan continues his 4-day trip in China. He's the first Turkish Prime Minister to visit the country in 27 years. With a large business delegation, the visit is expected to push the bilateral collaborations to a new level. CCTV's Lv Yao reports.
Recep Tayyip Erdogam arrived in Beijing on Monday, after a stop in China's Xinjiang Uyghur Autonomous Region.
Premier Wen Jiabao welcomed his Turkish counterpart at the Great Hall of People, and they later held talks,
Erdogan is scheduled to meet President Hu Jintao and Vice President Xi Jinping on Tuesday.
Erdogan is accompanied by a large delegation of businessmen and ministers. The two countries are expected to sign several agreements, including a deal on cooperation in the nuclear energy sector, and possibly one on the export of Turkish foods to China. Analysts say there's plenty of room for collaboration .
Li Guofu, senior fellow of China Institute of International Studies, said, "The two sides have their own economic features. For instance, Turkey has great potential in construction, energy and other sectors. On the other hand, manufacturing, machinery products and infrastructure construction capability could be China's advantages. And there is the bilateral economic cooperation."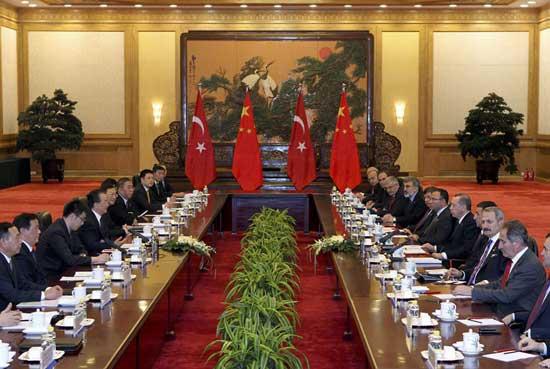 Chinese Premier Wen Jiabao holds talks with Turkish Prime Minister Recep Tayyip Erdogan in
Beijing, capital of China, April 9, 2012. (Xinhua/Ding Lin)
Erdogan's trip to Xinjiang holds special significance. The northwest China region shares an ethnic bond with Turks, and Turkey plans to set up an industrial zone there.
Li Guofu said, "Due to the linguistic and religious link to Xinjiang, China welcomes Turkey to invest in its Northwest Region. Although we still see trade imbalance between the two countries, China has made it clear that it welcomes Turkish investors. Besides, China has been sending out business procurement groups to purchase products from Turkey."
China's economic center Shanghai will be Erdogan's last stop. He's due to deliver a speech at Shanghai International Studies University.
Editor:Liu Fang |Source: CNTV.CN