Watch Video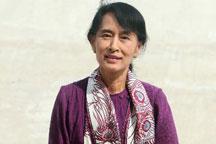 Play Video
The Myanmar opposition leader, Aung San Suu Kyi, has been sworn in to the country's parliament. It's the first time she's taken public office since she launched her opposition campaign against the country's military rulers nearly a quarter of a century ago.
The 66-year-old opposition leader's entry into the legislature heralds a new political era in Myanmar. It cements a risky detente between her party and the reformist government of President Thein Sein, which inherited power from the army last year.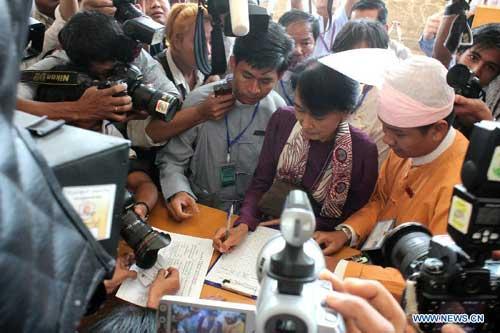 Aung San Suu Kyi (C), leader of Myanmar's National League for Democracy (NLD) and
parliament representative-elect signs to attend Myanmar's parliament in Nay Pyi
Taw, May 2, 2012. Aung San Suu Kyi started to take seat in the parliament for
the first time on Wednesday. (Xinhua/U Aung)
There are fears the presence of the opposition lawmakers could simply legitimise the regime without any change. But the new lawmakers are also likely to bring a level of public debate to the legislative body, that has never been seen as they prepare for the next general election in 2015.
The swearing-in ceremony took place in the capital Naypyitaw, which was built by the former army junta.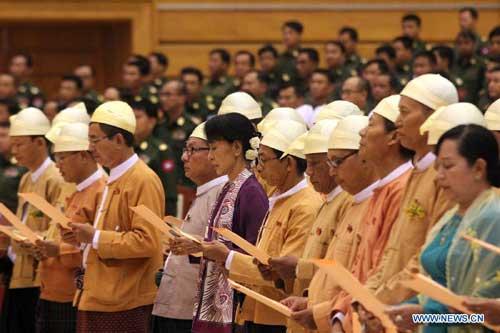 Aung San Suu Kyi (C), leader of Myanmar's National League for Democracy (NLD)
and parliament representative-elect swears in to Myanmar's parliament in Nay
Pyi Taw, May 2, 2012. Aung San Suu Kyi started to take seat in the parliament
for the first time on Wednesday. (Xinhua/U Aung)