Watch Video
Play Video
US Defense Secretary, Leon Panetta, has arrived in New Delhi to begin his three-day visit to India. Panetta is expected to meet Prime Minister Manmohan Singh and hold talks with his Indian counterpart, A.K. Antony.
This is Panetta's first visit to India since taking his post. The visit aims to enhance bilateral military and defense cooperation. Two major arms sale contracts are expected to be signed.
Panetta is set to discuss the possibly helping to train the Afghan army and police, though talks could stir America's already tense relations with Pakistan.
This is Panetta's third stop on a nine-day tour of Asia, including previous visits to Singapore and Vietnam.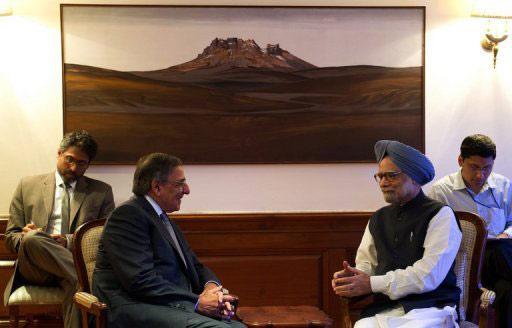 US Secretary of Defense Leon Panetta (2nd left) speaks with Indian Prime Minister Manmohan Singh during a meeting in New Delhi.
Editor:Zhang Jianfeng |Source: CNTV.CN