Watch Video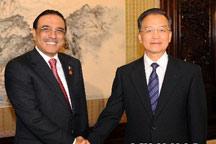 Play Video
As the SCO summit continues, the focus is likely to remain on Afghanistan. Experts believe the SCO's role is to help Afghanistan's recovery, both politically and economically.
As an observer state, Pakistan hopes to get full membership of the SCO at the summit, and as the country shares the longest border with war-torn Afghanistan, how does Pakistan see its role?
Since the 80's, treachery and duplicity in the name of war to protect US mainland after 911 was a resurrection of the great game to penetrate the resource rich Afro-Asian nations by the neo-colonialist US establishment under Bush, who proclaimed a crusade in a region predominantly inhabited by Muslims.
As a frontline state Pakistan has borne the brunt of losses in kind and lives with the killing of over 35000 civilians, including women and children in the tribal belts of the north and more than 5,000 active troops of the Pakistan army.
The hideous introduction of aerial warfare by unmanned drones, condemned by the whole world and manipulated by the united states military command with the blessings of NATO forces led by the united states, has ironically led to the ignominious defeat of the most powerful armies of the world now seeking escape routes from war torn Afghanistan to prevent the Vietnam syndrome.
The reprisals now are brutal and savage, with no quarters being sort. The pakhtunwali code of revenge has from time immemorial based on eye for an eye, best expressed by Colonel Gilani who has served in the area.
Defense expert Dilawar Parviz Gilani says, "If we do not scale down conflict and do not bring peace and law and order in those areas which are disturbed, this will continue.There is a ceremonial role of SCO to be played in this. SCO should be development oriented and not follow the nostrum of fighting terrorism with terrorism just like the Americans have tried and failed."
Behind the scene parleys with top US command and its puppet Karzai Afghan government have not yielded the expected results and the American desire to goad Pakistan into attacking the Haqqani group and opening up a second front in Waziristan has given little headway of resuming the NATO supply route.
Experts believe, the Russian and Chinese desire to give Pakistan full membership of SCO is mainly on account of the threat of militant groups in CARS, where Uzbek and Chechen freedom fighters are likely to impact on stability on the Russian zone of influence and territories.
Danial Khan from Istamabad says, "Experts say Pakistan's involvement in the SCO summit is crucial. In any current or future discussions related to the solution of the afghan imbroglio, the pivotal role of Pakistan cannot be ruled out especially with massive inflows of afghan refugees pouring in the settled areas of Pakistan and creating a crisis situation in human and financial terms."
Related stories
Editor:Zhang Jianfeng |Source: CNTV.CN