Watch Video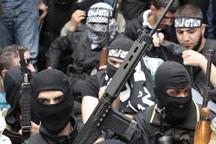 Play Video
When violence erupted in a Lebanese border town with Syria over the weekend, reports quickly spread of the possibility of Syrian conflicts spilling over to its neighboring countries.
Factions fighting each other not over turf, living conditions or internal governance but battling along lines of loyalty over what's happening next door in Syria.
Some stand staunchly behind President Assad's ruling government, others back opposition. It's a scene that has played out repeatedly in this town and will undoubtedly continue.
It took military presence to end the fighting this time. World leaders warn that if Syria descends into civil war, Lebanon may be drawn in but some argue that claim.
An analyst named Bissane El Cheikh from Al Hayat Daily says, "I don't think this will get any bigger and escalate into a civil war. First of all to have a civil war you need to have two-at least two. Players that have the same strength, that have the same arms, some kind of political and field equipment also."
70 kilometers away in Beirut, they're following events to the east, concerned about spillover but doubting war.
A Beirut resident Ammani says, "Of course we are worried because since a long time we and Syrias as one. Everytthing that happens in Syria affects Lebanon and everything that happens in Lebanon affects Syria, of course."
A Beirut resident David says, "We had some lessons because the first civil war in 1975 we learned from it that nothing has changed and it cost us billions of dollars to re-have a country. So it will stay like this-unstable situation."
A surge in opposition violence and recent killings of 108 civilians are fueling action. But as Arab League Chief Nabil El Araby meets UN Secretary General Ban Ki Moon in New York in the coming days to discuss Syria, here on the ground people know where their loyalties lie.
Stephanie Freid says, "Nobody can say for sure whether or not Lebanon or other area countries will get drawn into a regional war based on the events that are unfolding in Syria. But one thing's for sure: the ties between Lebanon and Syria are quite strong and that goes beyond sectarianism, politics and economics. There's a kinship here that's based on history and the Lebanese say the Syrians stood by them in times of trouble. Now it's time to pay that back."
Related stories
Editor:Zhang Jianfeng |Source: CNTV.CN