Watch Video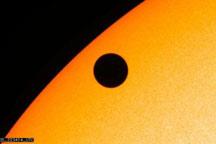 Play Video
A rare astronomical event has stunned sky gazers and astronomers right across Asia. Viewers in several countries have assembled to see the planet Venus pass directly between the Sun and the Earth.
Transits of Venus happen in pairs, eight years apart, with more than a century between the cycles. During these rare events, Venus appears as a small, dark round spot moving across the face of the sun. A professor from Guwahati city in India's northeastern Assam state explained the significance of the transit.
Professor S. Bordoloi says, "This transit of Venus is occurring, astronomically transit is a passage, so when Venus is seen passing over the body of sun, we refer to it as a transit. So, it is a very rare celestial event. In this century we had two transits and transit comes in a pair with a gap of eight years."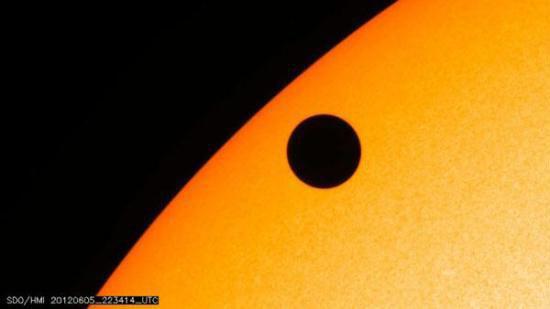 Handout image courtesy of NASA shows the planet Venus at the start of its transit of the
Sun, June 5, 2012. One of the rarest astronomical events occurs on Tuesday and Wednesday
when Venus passes directly between the sun and Earth, a transit that won't occur again
until 2117. [Photo/Agencies]
Sky gazers on seven continents, including Antarctica, have been able to see all or part of the Venus transit, with telescopes fitted with solar filters to protect the eyes.
In India, people assembled at planetariums and other sites in the southern city of Hyderabad and Lucknow, the capital of India's northern Uttar Pradesh state to witness the memorable sight. Meanwhile elementary school students in Silang, south of the Philippine capital, also took a break from their classes to view the historic transit.
Elsewhere, scientists in Tokyo were not that lucky. While other parts of Japan enjoyed the view, in Tokyo the only sight to be seen was grey rain clouds.
Tamarokuto Science Centre Masaharu Saito says, "I'll just have to give up. But we can have another go - well, in 105 years time. So it'll just have to be my children's children who see it."
South Koreans at a science museum observatory in Gwacheon were not disappointed. Over three hundred students and local residents gathered to witness the transit that won't occur again until 2117.
During the transit, astronomers have been measuring the thickness of Venus' atmosphere and will use the data to develop techniques for measuring atmospheres around other planets. Studies of Venus' atmosphere could shed light on why Earth and Venus, which are almost the same size and orbit approximately the same distance away from the sun, ended up so different.
Editor:Zhang Jianfeng |Source: CNTV.CN