Watch Video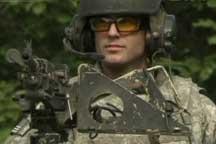 Play Video
U.S. and South Korean artillery troops have conducted a joint live fire exercise, testing readiness against a potential artillery attack on the South. The exercise took place in Cheorwon, roughly 100 km north of Seoul.
Three hours of live fire...The militaries said each training event is unique in training proficiency.
A U.S. artillery battalion and two South Korean artillery units participated in the drill.
The Multiple Launch Rocket System provides counter-fire and suppression of enemy air defences, light material and personnel targets at a range of 15 to 300 km.
The MLRS is a high-mobility automatic system and is capable of supporting and delivering basic and extended-range rockets.
Josh Jehl, US Staff Sergeant, said, "The purpose of this training is to ensure that both the United States army and the ROK forces are able to coordinate our abilities in a joint fire effort. By doing this type of training it only reinforces the relationship between us and the ROK army. "
The drill comes amid worries the Democratic People's Republic of Korea could be preparing a third nuclear test following the failed satellite launch in April. South Korean intelligence officials say satellite images suggested the DPRK is preparing for a test. Pyongyang has denied this, saying they have no current plans to do so.
Meanwhile, The commander of the forces said U.S. forces based in South Korea are seeking to deploy weapons for more advanced war-fighting capabilities. Gen. James Thurman, told a forum in Seoul that he has asked for "increased capabilities in terms of theater ballistic missile defense" to maintain a strong defense readiness, adding he is "confident" the Pentagon will approve the request.
Editor:Zheng Limin |Source: CNTV.CN