Watch Video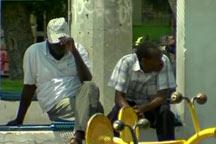 Play Video
Meanwhile Israel's government has defended recent arrests and its intended deportation of African refugees. While officials admit that Isreal cannot repatriate the majority of its illegal immigrants, they insist detaining those already in Israel will deter others from coming.
Passing the day in South Tel Aviv's notorious Lewinsky Park. For years… the slummy center of Israel's financial capital. Now… the congregating point for recently-arrived African migrants. The government here calls them "infiltrators," they call themselves refugees with nowhere else to go.
27 year-old Abdulla Ali - in the green shirt - came from Darfur in Sudan nine months ago.
As a signatoree to a half-century old international convention governing the treatment of refugees, Israel admits: it cannot deport Eritreans and Sudanese… the majority of the nearly 60,000 African migrants here.
The government says it will deport those it can, and will detain those it can't. And this week, it began doing just that.
Spot-checks like these have become more and more frequent. Those checking documents are as camera shy as they are effective: on the day we visit, most non-Sudanese and non-Eritreans are out-of-sight, aware of the recent crackdown.
Roee Ruttenberg, from Tel Aviv says, "Over the years, less than 200 have been officially recognized as refugees and thus, allowed to work. The rest can't. They spend their days loitering in places like this. Some turn to theft and pretty crime. That's angered local residents of the surrounding neighborhood, and led to a recent upswing in sentiment against them."
Earlier this year, the government passed the so-called "Anti-Infiltration Law." When enforced, the law will allow for the immediate detention - without trial - for up to three years of individuals who illegally enter the country. A proposed detention facility in the country's south will now be expanded to accommodate some 25-thousand people. Activists here say such moves are in direct violation of Israel's obligations under international accords.
Asaf Weitzen, from a migrant workers' hotline says, "We are always saying the solution is to give them basic human rights, to give them the right to health care, give them the right to work, this will allow a spread of population, and ensure the moral obligations of the state of Israel."
Many in the Israeli public claim that the country - already strapped with a military expenditure which accounts for a large portion of its annual budget - can't afford having the Africans here.
Weitzen says, "it can't afford otherwise. Can Israel send people to their death, or a place where their human rights will be offended seriously? I think the answer is no."
For now, Israel says it is trying to clean up TODAY's mess. For some, it may be creating a bigger mess for tomorrow.
Related stories
Editor:Wang Xiaomei |Source: CNTV.CN