Watch Video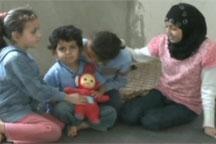 Play Video
As the violence in Syria escalates, many people caught in the conflict are faced with inadequate or a complete lack of medical care. Volunteers and humanitarian agencies in the neighbouring countries have been taking care of the increasing numbers of Syrian refugees fleeing their country.
Turkey has voiced concerns over the inflow of Syrian refugees due to the conflict, saying the number has increased to 29,500. In Turkey, a group of Syrian doctors and volunteers is trying to alleviate the suffering of people in Syria. Some smuggle medical supplies into the country and organize medical centres across the border.
Wassim Taha, Manager Union of Syrian MED. Relief organizations: "We are united Syrian doctors. We are trying to get all Syrian doctors in Turkey into one group and help the people and especially people inside Syria. We have opened a small hospital inside Syria that operates in secrecy. We receive injured inside the border. We organise medical centres and here we are preparing some medical supplies to be sent to Syria to help people. There are many people coming from Syria and we take them from the border to hospitals here."
Meanwhile, more than 120,000 Syrians have entered Jordan since the unrest in their country began in March last year. Volunteers and humanitarian agencies in Jordan have been taking care of the increasing number of Syrian refugees.
Italy has also sent medical aid to help Jordan treat wounded Syrians. It is part of a plan to set up a field hospital near the border with Syria in the near future.
Francesco Fransoni, Italian ambassador to Jordan: "This is the first concrete help and support from Italy to Jordan and the Jordanian people. And Syrian people of course that are crossing the border."
As moe and more wounded people are increasing its medical burden, Jordan has called for intensified international efforts to help it provide aid to Syrians taking shelter in the country.
Editor:Wang Shuo |Source: CNTV.CN