Watch Video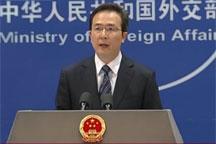 Play Video
China has issued a declaration against Vietnam's passing of its national law of the sea, saying it has infringed China's territorial sovereignty.
Vietnam's National Assembly passed the new law on Thursday, claiming that Xisha and Nansha Islands are within Vietnam's sovereignty and jurisdiction.
Chinese Vice Foreign Minister, Zhang Zhijun, has summoned Vietnamese Ambassador to China, Nguyen Van Tho, to make a solemn representation regarding the new law. Zhang reaffirmed that China has indisputable sovereignty over the Xisha Islands, Nansha Islands and their adjacent waters.
Hong Lei, Spokesman Chinese foreign ministry: "Vietnam's unilateral action has complicated and escalated the problem and violated the consensus reached by both leaders, as well as the spirit of the Declaration on the Conduct of Parties in the South China Sea. Vietnam's move is illegal, invalid and detrimental to peace and stability in the South China Sea. China will firmly safeguard its national sovereignty. China requests that Vietnam immediately rectifies its mistakes and refrain from taking any action that could damage bilateral relations or jeopardize the peace and stability of the South China Sea. "
Editor:Wang Shuo |Source: CNTV.CN