Watch Video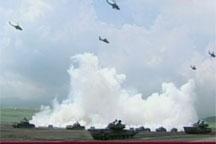 Play Video
The naval forces of South Korea, the United States and Japan have begun a joint drill in waters off South Korea's southern island of Jeju. The drill is the first time the three nations have held joint exercises.
An unprecedented joint drill is now taking place in the waters south of the Korean peninsula.
It's the first trilateral military exercise conducted by the US, Japan and South Korea. Over the past year, the US has indicated its intention to shift its strategic emphasis to the Asia-Pacific region.
The drill is divided into two stages, the first will simulate a rescue operation by the three countries' armed forces, while the second stage will be a separate exercise carried out only by the US and South Korea in the Yellow Sea.
The first stage of exercises will focus on improving inter-operability and communications between the three nations. It will involve training in search and rescue and maritime interdiction operations. The nuclear-powered aircraft carrier George Washington will lead the exercise.
Though South Korea and Japan are US allies in the region, both have approached military cooperation with caution. In 2010, the idea of conducting a three-party drill was shelved. South Korea rejected the plan due to its bitter colonial history with Japan. This time, the US has emphasised disaster relief cooperation as the key purpose of the joint exercise, making Japan's inclusion more acceptable to South Korea.
South Korea's Defence Ministry has called the drill a routine exercise of "a humanitarian nature". But it comes at a time of rising tensions with the DPRK. On Thursday, the DPRK said the three-nation exercise threatened to bring a " new cloud of war" to Northeast Asia.
Editor:Wang Shuo |Source: CNTV.CN