Watch Video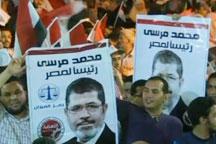 Play Video
Israeli Prime Minister Benjamin Netanyahu has expressed his respect for the outcome of Egypt's Presidential election. He also issued a statement hoping for continued cooperation between the two countries.
Netanyahu said Israel looked forward to continuing cooperation with the Egyptian government on the basis of the 1979 peace treaty. He said Israel wants to continue a peaceful relationship with Egypt and work together on regional stability.
Opposition leader Shelly Ya-chi-movich from the Labor Party also welcomed the result. Israel has maintained a low profile regarding its neighbour since ex-leader Hosni Mubarak was ousted from power. But relations have cooled. Morsi announced last week that he intends to respect the peace treaty with Israel, mainly due to U.S. threats to cut yearly grants to Egypt's military budget if they retract from the treaty. Israel says it hopes Egypt's new government will put national self-interest ahead of any revision of bilateral ties.
Editor:Wang Xiaomei |Source: CNTV.CN