Watch Video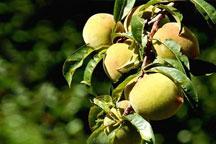 Play Video
India's peach lovers may be facing disappointment this season, as growers report a massive loss in production. It's all down to a drought, affecting areas around Ramgarh, in India's northern state of Uttarakhand.
A scorching summer, and no rain.
This area of Northern India used to get early showers before the annual monsoons.
But this year, the rains didn't come and the peach trees are suffering.
Peach orchard owner Shankar Dutt said, "This year there was no snowfall and rainfall. Now the trees are on the verge of drying up. We earn our livelihood growing the fruit. I don't know how we'll manage the rest of the year. The entire crop, about 90 percent has dried up."
Local businessmen say they've never seen anything as bad as this before.
Fruit processing plant owner, Sanjeev Bhagat, said, "We've not had a drought like this in the past 30 to 40 years. Even the trees are drying up. The whole industry is facing a lot of difficulties. Due to scarcity of good quality peaches we are unable to make juices, and the fruit is becoming more expensive."
Fruits from Ramgarh used to be sent out across the country. It's popularly known as "the fruit belt", growing peaches, apples, apricots, plums and pears.
It may be too late to save this year's crop. These farmers and suppliers hope their fortunes may improve next year.
Editor:Zhang Jingya |Source: CNTV.CN