Watch Video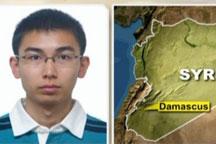 Play Video
Heavy fighting is now being reported in several suburbs of the Syrian capital Damascus. It's said to be the worst violence to hit the Syrian capital since the start of the 16 month rebellion against President Bashar al-Assad. Full Story>>
For the latest on the security situation in Syria, let's talk to CCTV reporter Zhang Chengzhu who is standing by in Damascus,
Q1: Hello, Chengzhu, what's happening on the ground there right now?
Q2: On top of all the internal discord, Syria is also being accused of firing on a second Turkish plane as it searched for the downed F-4 fighter jet. NATO is backing Turkey as tensions continue to escalate. What's does the Syrian government have to say about all this?
Editor:Zhang Jingya |Source: CNTV.CN