Watch Video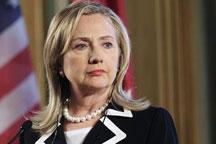 Play Video
US Secretary of State Hillary Clinton says President Obama has designated Afghanistan as America's newest major non-NATO ally. The move is aimed to facilitate close defence cooperation after US combat troops withdraw from the country in 2014.
The United States is now mapping up its future relations with Afghanistan
The announcement was made by Secretary Clinton on an unannounced visit to Afghanistan.
Hillary Clinton, US Secretary of State, said, "My message today is very simple: the transition is on track, Afghanistan is standing up for itself. Of course it will need support and we are pledged to continue our support and to work with you to get more international support and I'm quite excited about what lies ahead in Tokyo. But please know that the United States will be your friend and your partner. We are not even imagining abandoning Afghanistan. Quite the opposite - we are building a partnership with Afghanistan that will endure far into the future."
Afghanistan is the 15th such country the US has declared a major non-NATO ally and the first one declared during Obama's presidency.
Others include Australia, Egypt, Israel, Japan and also Pakistan.
The designation gives preferential access to US arms exports and defence co-operation.
Afghanistan's military is heavily dependent on American and foreign assistance. The non-NATO ally status guarantees it will continue after most NATO-led troops leave the country in 2014.
But there are still fears the pullout could lead to Afghanistan sliding back into chaos, destroy its fragile economic recovery and reduce international donors' willingness to provide aid.
Saturday's declaration comes ahead of a major donors' conference in Japan, which is due to discuss a 4-billion US dollar aid package each year to Kabul.
Afghanistan is seeking firm commitments, but donors at Tokyo's meeting are also seen as likely to demand guarantees from Kabul on good governance and transparency.
Related stories
Editor:Zhang Jingya |Source: CNTV.CN