Watch Video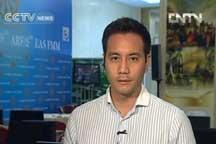 Play Video
Foreign ministers from the Association of Southeast Asian Nations are meeting in Phnom Penh to discuss a series of regional issues. Full Story >>
For more on the meeting, let's cross over to our correspondent, Andy Saputra, who is now standing by outside the Peace Palace in Phnom Penh.
Q1. Hello, Andy. ASEAN foreign ministers have ended their first day's talks. What have been the highlights and what can we expect from next several days' meetings?
Q2. ASEAN has postponed signing documents on a nuclear weapons-free zone. Those documents were originally scheduled to be signed during this week's ASEAN meeting . Why has that occurred and what impact will this have?
Editor:Zheng Limin |Source: CNTV.CN