Watch Video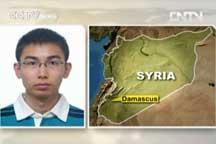 Play Video
Visiting international envoy Kofi Annan said Monday he has concluded an approach with Syrian president Bashar al-Assad regarding ending the violence in the country, adding that the approach will be also shared with the armed opposition. Full Story >>
For more on the talks between UN-Arab League envoy Kofi Annan and Syrian President Bashar al-Assad, we are now joined on the line by our correspondent, Zhang Chengzhu, in Damascus.
Q1: What's the latest there? What agreement did the two reach during their talks?
Q2: We know that you have been talking with some locals in Damascus about the talks. What do they think? How do they see their country's future?
Related stories
Editor:Zheng Limin |Source: CNTV.CN