Watch Video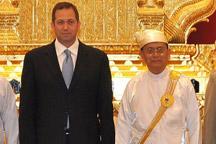 Play Video
The first US ambassador to Myanmar for 22 years has arrived in the country to take up his new post. It's a further indication of the thawing relations between the two countries.
Derek Mitchell is an Asia expert with Pentagon experience. He was welcomed by Myanmar president Thein Sein at the presidential palace.
Myanmar's current government took office in March 2011. Since then, it's launched a wave of reforms, including overhauling the economy, easing media censorship, legalizing trade unions and protests, and freeing political prisoners.
The US has responded with diplomatic and economic gestures. Last year, Hillary Clinton became the first US Secretary of State to visit Myanmar in more than fifty years. The White House has begun easing sanctions, allowing American companies to invest in the country.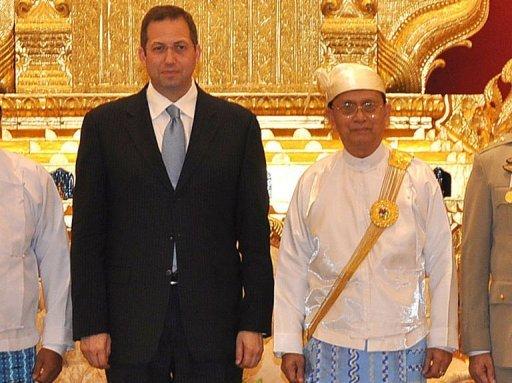 The new US ambassador to Myanmar Derek Mitchell (L) stands next to Myanmar
President Thein Sein at the presidential residence in Naypyidaw on July 11,
2012. Mitchell, the first US ambassador to Myanmar in over two decades, took
up his post on July 11, 2012.
Editor:Wang Chuhan |Source: CNTV.CN