Watch Video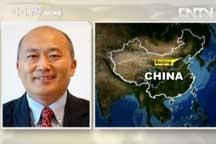 Play Video
Chinese police chief, Meng Jianzhu has paid a visit to the site of the Mekong murder that claimed the lives of 13 Chinese sailors last October. Meng is the highest-ranking Chinese official to visit the site. Full Story >>
For more analysis on the Mekong River case, we're now joined by Mr. Jia Xiudong, a research fellow from the China Institute of International Studies. Welcome, Mr. Jia.
Q1: An investigation has been underway since the Mekong Massacre occurred more than 9 nine months ago. What's your perspective on the the probe?
Q2: China and Thailand have made joint efforts to fight against criminal gangs and secure regional safety. Could you please give us more insight on this international law enforcement cooperation?
Editor:Zheng Limin |Source: CNTV.CN