Watch Video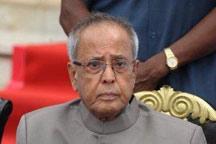 Play Video
As India gets ready for its 13th President, the contest is between the ruling Congress Party's candidate Pranab Mukherjee and the BJP's candidate PS Sangma.
In India, the President's post is ceremonial, but with the odds stacked in favour of former finance minister Pranab Mukherjee, the post could see many changes.
As India's 13th President has a few days to be elected, this time round the ceremonial position could see some changes.
Indian national and state lawmakers voted on
Thursday for a new president, with former finance
minister Pranab Mukherjee (pictured on July 1)
seen as a certainty to take up the mainly
ceremonial post.
The two contestants are - Congress Party's problem solver -; Pranab Mukherjee and BJP's PS Sangma.
In India, elected members of the Parliament and legislative assemblies vote for the presidential elections and not people and going by the support Pranab Mukkherjee has support of 60 per cent elected members giving him a clear edge. But despite his advantage he is not taking any chances.
Pranab Mukherjee says, "In my long political career spanning over 5 decades I have been fortunate to receive love, affection and I am confident of my party colleagues and members and leaders of other parties."
In India President is the non-executive head. But people who have watched Pranab Mukherjee's political career know that if he does become India's next president he will not be a president without influence.
Against Pranab Mukherjee stands PS Sanghma- India's main opposition party BJP's candidate. PS Sangma is a politician who has held many position but is considered a week candidate against Pranab Mukherjee.
PS Sangma says, "I have submitted three set of nomination papers...108 electoral members have signed."
In India even though all executive powers are vested in the prime minister, the president can play a decisive role when elections produce hung parliaments or when state governments are dissolved.
India's new president will take the post officially at the end of July and the results will be announced on Sunday.
Editor:Zhang Jianfeng |Source: CNTV.CN