Watch Video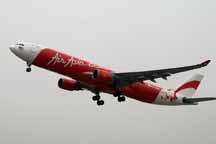 Play Video
The global airline industry has been struggling for the past few years, and the economic turmoil in the United States and Europe has not helped.
Around the world in 360 days on a shoestring budget? You may think that's impossible, but Lenka Le Feuvre has traveled to Asia all the way from Europe, and well, she's flying budget.
Lenka Le Feuvre, budget air traveler, said, "I can go like last minute, I can make a decision last minute. This we booked last night and it didn't cost very much."
Over the last decade, more and more travelers have been flying budget. In fact, in Asia, the so-called low-cost carriers now account for over a quarter of the market, spurring growth in an otherwise struggling airline industry.
Brendan Sobie, Center for Aviation, said, "We have rising income, we have a rising middle class, so people can afford to fly for the first time. But at the same time, we have lower fares; the budget carriers stimulate demand by lowering fares."
Kuala Lumpur's budget terminal is a testament to Asia's growing budget airline industry… Last year, it served an estimated 17 million passengers. And it's home to Asia's largest low-cost carrier-Air Asia.
From just two aircrafts back in 2001, Air Asia's fleet has grown to more than a hundred. It's not the first budget airline in the region, but its success has fueled a booming budget airline industry. Asian carriers now own close to 6,000 aircrafts, up from just 4,000 five years ago.
And there's more to come. Experts predict that by 2030, Asian carriers would have bought over 11,000 aircrafts valued at $1.5 trillion. That's in part because full service carriers like Singapore Airlines - through its budget carrier Scoot: have also joined the fray.
Campbell Wilson, CEO of Scoot Airlines, said, "We're here to fly those sectors that are beyond 4 hours, for people to have that opportunity."
Scoot currently flies to Australia and Thailand, and will soon begin flights to Tianjin in China. Air Asia already flies to China, but its chairman, Tony Fernandes, sees even bigger potential.
Tony Fernandes, CEO of Air Asia, said, "I think that's what a low-cost airline can do for you. It can open up markets that just weren't there before. And in China's case, there's a whole lot of them. China's a massive country."
But rising fuel costs and the economic reality in Europe has forced Air Asia's sister airline, Air Asia X, to pull out of its long-haul routes to Europe. A minor snag, aviation experts say, as Asia's low-cost market is on track to becoming a $23 billion industry by 2014.
Related stories
Editor:Zhang Dan |Source: CNTV.CN