Watch Video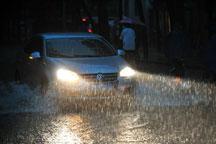 Play Video
Transport in the Tianjin Municipality has returned to normal after Thursday's downpour.
Tianjin meteorological center says average rainfall reached 147 millimeters, with the maximum exceeding 300. The torrential rain flooded roads in the downtown area. The fire prevention bureau sent 190 fire engines and more than 11 hundred rescuers to help stranded vehicles and pedestrians. No cases of drowning have been reported. Four people were electrocuted and are receiving treatment in hospital.
The extreme weather also disrupted air traffic. 20 flights were cancelled and 34 delayed. China's central weather bureau says rain can be expected in northern China over the coming three days.
Editor:Bai Yang |Source: