Watch Video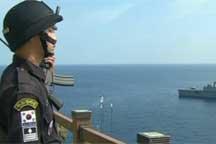 Play Video
South Korea is set to unveil a monument on the disputed Dokdo islets during a ceremony on August 15th. The announcement comes as tensions rise over the disputed islets between South Korea and Japan. Named "Guarding Dokdo's Iconic Stele", the unveiling coincides with the nation's day of independence from Japanese control.
Both South Korea and Japan claim sovereignty over the disputed islets known as Dokdo in South Korean and Takeshima in Japan. And South Korea claims that the stele demonstrates its territorial sovereignty of the barely inhabited islets, where the country has stationed soldiers.
The Gyeongsangbuk-do local government began preparing the monument in secret a month ago in order to avoid stirring diplomatic friction between the two countries. Meanwhile, South Korea has strongly urged two Japanese cabinet ministers to scrap a planned visit to a Tokyo shrine that honours the country's war dead, including war criminals.
Editor:Wang Shuo |Source: CCTV.com