Watch Video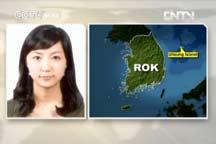 Play Video
A South Korean group consisting of a singer, actor, professor, and more than 40 university students have swum a relay to a group of islets disputed between South Korea and Japan. At 7:30 a.m. local time on Wednesday, the group reached the islets. Full Story >>
And U-Jean Jung joins us now on the phone from Ulleung island.
Q1: Hello, U-JEAN. Bring us up to date on the South Korean activists who are swimming to the Dokdo islets. How do they feel about their activity today and what condition are they in?
Q2: Today is South Korea's Liberation Day, which marks independence from Japan's 35-year colonial rule. President Lee Myung-bak made a speech urging Japan to resolve the "comfort women" issue. Can you give us more details on this?
Editor:Zheng Limin |Source: CCTV.com