Watch Video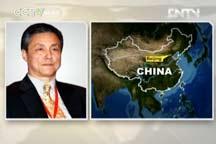 Play Video
Japanese Cabinet minister Jin Matsubara, in a provocative move, has visited the Yasukuni Shrine in Tokyo on the 67th anniversary of Japan's World War II surrender. Full Story >>
For more, we're joined again by Yang Xiyu, a research fellow with the China Institute of International Studies.
Q1: China has voiced its protest against Japanese politicians' visits to the Yasukuni Shrine on many occasions. On the 67th anniversary of Japan's surrender in World War Two, several cabinet members have again provoked reaction by paying a visit to the shrine. Mr Yang, can you give us your perspective on this and Japan's decision to continue its controversial visits to the shrine?
Q2: Currently, tensions are running high between Japan and its neighbours, China, South Korea and Russia over territorial disputes. It's believed the visit will increase tensions even further. Do you think this is the case?
Related stories
Editor:Zheng Limin |Source: CCTV.com