Watch Video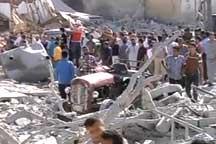 Play Video
International watchdog Human Rights Watch says Syrian forces airstrikes on a rebel-held town have killed over 40 people and wounded at least 100 others, including many women and children.
The strikes on the town of Azaz in northern Syria on Thursday levelled a whole neighborhood. Many of the wounded fled to the nearby Turkish border. Human Rights Watch says two opposition facilities in the vicinity of the attack may have been the real targets. One is the headquarters of the local Free Syrian Army Brigade, the other is a detention facility where rebels are believed to have been holding military detainees. Neither of the facilities was damaged in the attack.
Media reports say the rebels had been holding 11 Lebanese Shiites hostage in the town and that the bombing of Azaz has undermined the rebels' control of the area since they captured it from the government forces last month. State-run television Sana reports that government troops have carried out an operation to free journalists seized by rebels last Friday. One of the four journalists employed by the pro-government News channel al-Ekhbaria is believed to have been killed by the kidnappers.
Related stories
Editor:Zheng Limin |Source: CCTV.com