Watch Video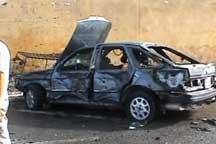 Play Video
At least eight people have been killed and 34 others injured in separate bomb attacks in Iraq's northern province of Kirkuk.
In the town of Daquq, some 250 km north of Baghdad, a suicide bomber drove and detonated his explosive-laden car into a security center belonging to Kurdish security members. Minutes later, a roadside bomb went off near the first scene, targeting an anti-crime office. Elsewhere in Almas and Arfa districts, four car bombs detonated, including a successive attack near a police station.
In a separate incident, gunmen blew up two roadside bombs in the house of an army officer in the town of Dibis, wounding him and his daughter. The oil-rich Kirkuk province is part of disputed areas between the Kurds and both Arabs and Turkomans. The area has long been the hotbed of insurgency since the US-led invasion in 2003.
Related stories
Editor:Zheng Limin |Source: CCTV.com