Watch Video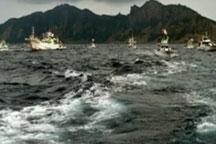 Play Video
The Diaoyu Islands and the affiliated islets have been China's inherent territory since ancient times. Japan disputes this and has tried to assert its ownership over the islands. We take a look back now over Japan's moves to assert its control over the Diaoyu Islands.
The Japanese government annexed China's Diaoyu Islands during the first Sino-Japanese war of 1894. At the end of the Second World War, the Cairo Declaration and the Potsdam Declaration stipulated that the islands should unconditionally be returned to China. However, the United States occupied the islands during the Cold War. In 1972, the U.S unilaterally handed the administration of the Diaoyu Islands to Japan. It indicated that administrative jurisdiction did not equate to sovereignty, and that the islands should be returned to China.
Since the 1970s, Japanese political groups have made several visits to the Diaoyu Islands. Japan has built a heliport and various landmarks, such as a lighthouse and shrines. In 1972, Japan's Foreign Ministry stated that the Diaoyu Islands were part of its territory. In the 1990s, various Japanese right wing activists visited the Islands, and Japan has encouraged these visits, despite protests by the Chinese government.
In September 2010, the dispute over Diaoyu Islands escalated after a Japanese patrol ship clashed with a Chinese fishing boat. Japan's defence ministry published a defence plan, outlining measures to defend the islands. In November 2011, Japan held its largest military exercise since World War Two off Kyushu Island. simulating possible attacks from China
In 2012, Japan raised tensions further after government officials made visits to the islands, gave official Japanese names to the islets and the Governor of Tokyo announced plans to "buy" them from the island's private owners. Japan's Prime Minister Yoshihiko Noda says he's considering "nationalizing' part of the islands.
Related stories
Editor:Zheng Limin |Source: CCTV.com