Watch Video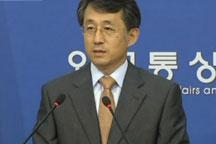 Play Video
South Korea's foreign ministry said on Thursday that Seoul won't "compromise on issues of history" as regional tensions with Tokyo over disputed islands remained high. At a news conference in Seoul on Thursday, Cho said the Dokdo islands historically belonged to South Korea.
Cho Tae-Young, S. Korean Foreign Ministry Spokesman, said, "There is no change in our existing stance that we will face the matter squarely while developing the South Korea-Japan relationship. I think many people in Japan also agree with this. I hope that we take the same stance, and develop the two countries' relationship."
The territorial dispute between South Korea and Japan heated up when South Korean President Lee Myung-bak visited the disputed islands last week. His visit was seen by many as an attempt to play up anti-Japan sentiment ahead of elections later this year. Tensions peaked on Wednesday on the anniversary of Japan's World War II surrender, when a group of South Koreans swam to the Dokdo islands with the aim of belittling Tokyo's claims to that territory.
Related stories
Editor:Zheng Limin |Source: CCTV.com