Watch Video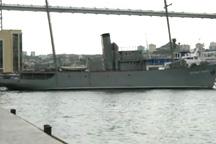 Play Video
Two Russian navy vessels have left Russia's Far Eastern city of Vladivostok, heading to the disputed Southern Kuril islands in the Pacific, which are known as the Northern Territories by Japan.
The ships are a landing ship and a towing vessel from Russia's Pacific Fleet. Both will visit two of the four disputed islands, namely Kunashiri Island and Etorofu Island. They will take part in ceremonies honoring Soviet sailors who died there at the end of World War Two.
Russia said the ceremony will mark the 365th anniversary of the establishment of the city of Kohotsk, as well as the 67th anniversary of liberation of the South Sakhalin and the Kuril Islands. The Russian Defence ministry said the two navy vessels are expected to come back to Vladivostok on September 17th.
Editor:Zhang Dan |Source: CCTV.com